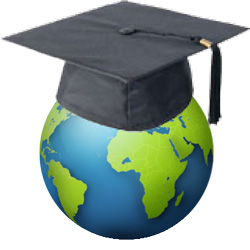 Students who are just starting with a new semester would do well to think about their future careers. Additional training or education after high school gives students more opportunities in the job market. This fact is reflected in unemployment rates, as those with higher educational levels are much less likely to become unemployed. The national unemployment rate in August for 16 to 19 year olds was 24.6 percent. Adults with a high school diploma had an unemployment rate of 8.8, and college graduates had an unemployment rate of 4.1 percent.
Occupation choices also have an impact on the ability of graduates to find work. Data from Chmura Economics & Analytics estimates the unemployment rate for construction-related occupations in the Richmond metro area to be 12.6 percent in the second quarter of 2012. The unemployment rate during the same period for individuals in computer and math occupations was 3.3 percent; healthcare practitioners and technicians had an unemployment rate of 2.7 percent; and those in life, physical, and social science occupations had the lowest unemployment rate at 1.9 percent.
It is no surprise that employers are in need of STEM-H workers—that is, occupations that specialize in science, technology, engineering, math, and healthcare. STEM jobs are often associated with innovation—new products and services—or the creation of more efficient modes of production. These jobs pay well:  an average of $79,200 per year in Richmond during the second quarter of 2012 compared with $44,200 for all occupations. STEM jobs are also in demand. Chmura forecasts STEM jobs to grow an annual average 1.9 percent over the next decade in Richmond compared with 1.6 percent for all occupations.
Healthcare jobs also fit well with the STEM definition because most healthcare workers require an understanding of biology, chemistry, and math. Those jobs are also expected to grow faster than the regional average and pay more than average.
To successfully obtain STEM-H degrees at higher education institutions, students need to graduate from high school with solid math skills. Using the standards of learning Algebra II exam as an indicator, more preparation may be needed for students in the Richmond metro area. Between 2008 and 2011, an average 73.1 percent of students taking the exam received a proficient score while only 19.0 percent obtained an advanced score. Henrico County averaged the highest scores, where 29.7 percent of students taking the test received an advanced score, followed by Prince George with 25.7 percent; and Louisa with 23.3 percent. The two lowest averages for advanced scores were in Petersburg (3.0 percent); and Sussex (5.0 percent).